With the continuous growth of the eCommerce industry, it's essential to continue identifying areas of your business that can adjust according to the demands of the market, what works, and what can be optimized in your processes to make customers' and prospects' experiences better. With twelve (12) different categories of Shopify apps and 6,000 readily available, store owners can easily choose and install various apps to help them grow their business. However, it's not only important to select the right apps, but also to improve how you manage them to increase your sales. 
Sales may have peak and lean seasons, so your marketing strategy and campaigns should be tested and adjusted to ensure that your conversion thrives – no matter how the market behaves.
We've compiled 17 of the best ways to boost your conversion, which work on the majority of the eCommerce models. Let's dive right in!
1. Value proposition – at all times
Why people should buy from YOU is highly essential to get more conversions. What makes you different from other options? Focus on how you address your audience's needs and wants. Take their pain point and share how your product will benefit them. Once this is identified, you can incorporate it into your product pages, your promotions, and even into your "About" page. 
A good example is how Shopify already shares what they have to offer already on their homepage and after seconds of landing on the website. With this, you can easily get more attention and even get your audience to stay longer – even longer than they planned to.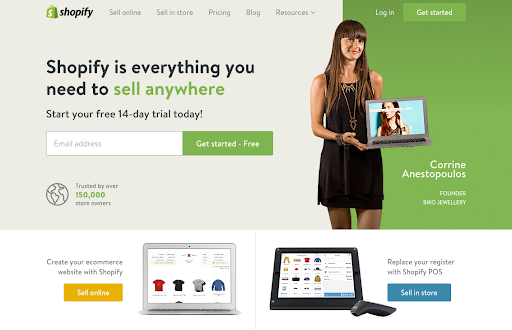 Image source: Shopify website
2. Focus on scarcity
Customers get more hooked when you share products that are available right now, as it might be the last chance to purchase them. You can also have different methods of focusing on scarcity, which may include quantity-related, like having limited stocks left, or maybe even having the last piece left, and even indicating how many people have it in their cart currently. Another is time-related, wherein they only have a few days left or you can also indicate when your promotion ends by keeping the offer timeline short. 
A creative example is also integrating a countdown timer of how much is left until people can purchase to trigger psychological factors that contribute to one's sense of urgency. This is a good method for B1T1 offers, pop-up sales, and even clearance sales.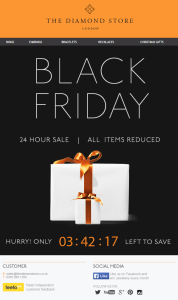 Image source: The Diamond Store
3. Avoid or lessen the use of fancy jargon
Not all your customers are familiar with the industry you're in – some may be beginners or have just entered the industry, while others might not have even started yet at all. If you go into a website and don't understand some points indicated, would you purchase their offer? Most likely not, because you only get hooked with items that relate to you. Remember that it's important for your audience to understand what you offer, and if you include jargons that are so technical that not everyone can get your point, then your conversions will get affected, too. 
Take inspiration from The Motley Fool here, where they mentioned "no Wall Street jargon here!" which is a good assurance for their readers that nothing shared there will be hard to understand – even investing, which is something that most audiences are afraid of and cause opportunities being thrown away.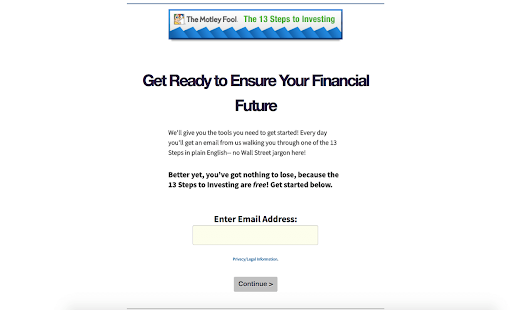 Image source: The Motley Fool
4. Be as personalized as possible
Depending on how your leads are sourced, you can personalize your funnel to focus on what attracted them and what made them go to your website. Both your website and your funnel need to ensure and anticipate suggestions and answers to potential questions and objections from your audience. You can also identify and even segment your audience depending on their demographics and behavior, including their browsing behavior and spending habits, which is something you can use to further personalize their experience in your store.
Take a look at how Amazon does it. Categories and even products recommended are based on your browsing activity, products you've already looked at, and even your onsite search.

Image source: Amazon
5. Upsell and Cross-Sell 
Either through Upsell or Cross-Sell, you can contribute to your conversion and even increase your average order value (AOV). You will still need to consider personalization based on which item will fit your audience the most, and you also need to limit how many and how often you upsell and cross-sell to ensure that your customers still see the value of your offer. Remember that in the midst of this process, do not go into hard selling cause it might make the potential customer feel aggressively being forced into purchasing; thus, may lead to cart abandonment.
Here's a soft upsell by ProFlowers which offers an upgrade either to one of their premium or normal vases, that's conveniently available from their store. T's also important to indicate how much they need to add and any other promotions you have, like free shipping, add another item to get another additional discount, or getting another 1 for free if you buy 4 or more.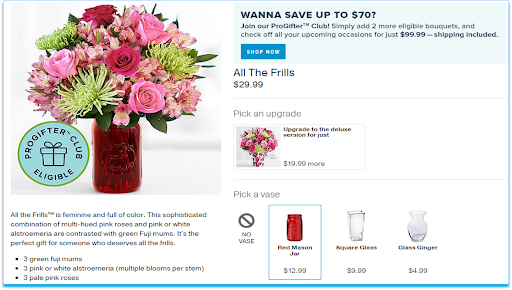 Image source: ProFlower
Shopify offers a wide range of Upselling & Cross-Selling Apps that you can easily add to your store. Check it out in the app store!
6. Integrate a seamless checkout process
A simple checkout process takes less time and will allow a better experience for your customer. A more complicated one can possibly bore your customer and lead to abandoning the cart, resulting in no conversion at all. You can show the progress of their checkout process by indicating the percentage of their progress, or maybe by including all information required in just one page. Regardless, the simpler it is, the better your conversion will be.
Simply removing unnecessary fields, steps, or even previews, will help give customers a much better encounter. UnderArmour shows that their checkout page can't get any simpler – with everything a customer needs in just one page (nothing more and nothing less).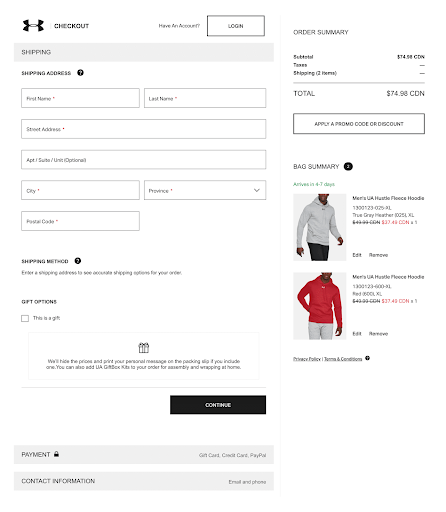 Image source: UnderArmour
7. Include wide payment options
Depending on your target audience, make sure that you have the majority of their available payment options ready to be used on your checkout page. Don't make it more complicated for them by asking them to reach you in case their preferred method isn't available. Before you even integrate payment options, ensure that you have researched well enough to include possible preferences.
KKW Beauty even includes Amazon Pay, which is a great method to consider especially if you're considering focusing on the eCommerce industry and audiences.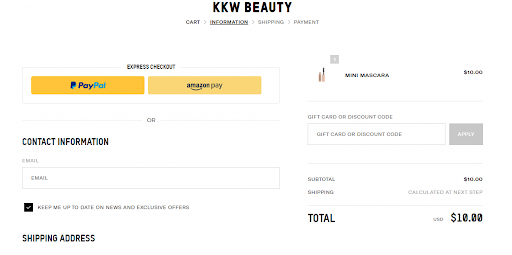 Image source: KKW Beauty
Shopify also has a blog on what they recommend store owners to display in their stores. Give it a quick read for more recommendations.
8. Allow guests to purchase from your site
Cart abandonment will most likely be prominent if your site doesn't allow guests to purchase, as not all customers have the patience to go through the process of account creation – especially if they plan to purchase just once. If your purpose is to keep them in your database for further promotions, offers, and even just maintaining relationships, you can refer to the contact details when they purchase as a guest and proceed from there. Remember to just indicate that by indicating their email, they will also be added to your database for newsletters. 
Nike's checkout process includes an option for Guest Checkout, which is as convenient as possible for potential customers.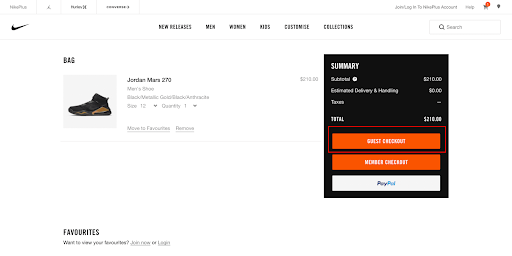 Image source: Nike
9. Make sure your website provides educational and valuable content
Through your landing page, product page, or even your blog, you can add information about your products and lead it into content that your users find value from. You can provide them tips, advice, and even news so that they can continue being updated. Through this, you are able to provide credibility and even use these as lead magnets when you start your promotion. Make sure to always research the trending topics so that your SEO can stay up-to-date, regardless of the current trends.
HubSpot is a good example, wherein it's not only a CRM platform, but also a powerful tool with various business generators like email signatures, social posts, and invoices. Additionally, its blog is a great and reliable source of information for the latest updates, strategies, and tips in the industry.
Check their blog for yourself here!
10. Price reasonably
With the rise of eCommerce, extra costs are also increasing which has contributed to cart abandonment for most stores. This may include shipping fees, taxes, custom fees, etc. This can be solved by offering free shipping and using it to invite more customers to go into your store. You can also indicate all additional fees as one and have a dropdown option to break down each cost and what it is for, to stay transparent with your customers. It's also best to reduce price shock by indicating the amounts on the product page so that your customers know the amount they can expect upon check out.
Image source: Kylie Cosmetics
11. Have a live chat option available
Live chat shows that there is actually a human that your customers can reach out to, which can potentially build more connections and establish better relationships with shoppers. Immediately resolving issues and concerns like shipping periods, money-back guarantees, refund policies, or instant access to digital products. Having a live chat on your site can also help boost conversions because of the time response and motivation to receive answers from someone that's actually liable and trusted. 
Remember to just include the expected response time that customers can refer to, so that they set their expectations right and won't demand instant answers, especially if their concern isn't urgent.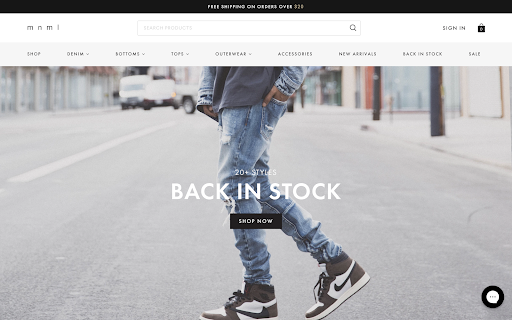 Image source: MNMI
It's also important to keep the live chat option easily accessible at all times, regardless of where your audience is on your website.
12. Decrease customer skepticism through Trust Badges 
If there's something your eCommerce store shouldn't miss, it's your trust badge. Since most (if not all) would require purchases through credit cards, your customers need to trust you with that information – and until then, purchases have yet to be done. First impressions last, so what you need to consider is to ensure that your potential customers trust your store even at their first visit.
Show legitimacy and follow industry-standard security practices.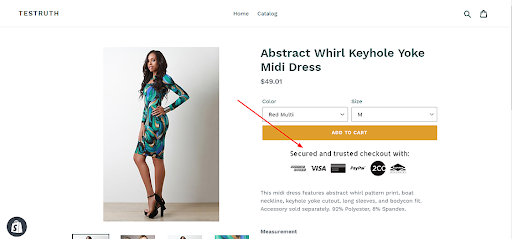 Image source: TESTRUTH
Through guarantee and assurance, doubts by your customers can be cleared and you can easily get those sales coming in no time. You can consider the Free Trust Badge to add to your store, too! 
13. Use High-Quality Product Images and Videos
The main challenge of eCommerce stores is for your customers to be enticed in what you offer, even without any physical interaction involved. Through high-quality visuals, they can easily grasp the idea of what it really is to possess what you offer and increase the chances of actually getting a sale. 
Through visualization, the imagery of what it's actually like for your customers to have it comes easier to them. A good example is Hard Graft, which included multiple photos of their product, along with different angles and samples to get a clearer perspective.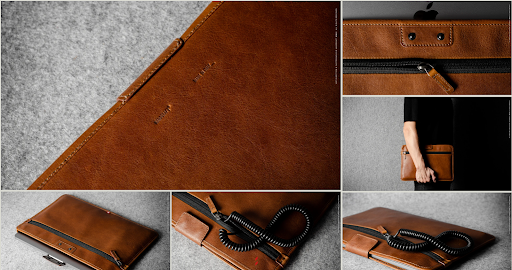 Image source: Hard Graft
14. Have customer reviews ready and published
Customer reviews are essential to prove that your store is indeed legitimate, operating, and trustworthy. It also shows that there really is a person behind the entire digital presence of a store, which can possibly lead to better conversions. show that you're a legitimate seller, and your products are worth investing in, leading to a high eCommerce conversion rate.   
You can even create a specific tab or page from your store containing only reviews and testimonials for better navigation like the one below, aside from having the reviews displayed when different products are opened.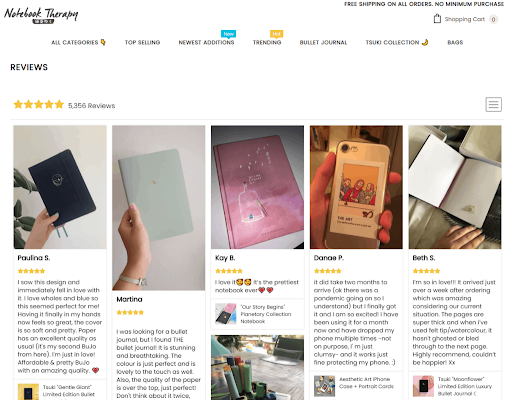 Image source: Notebook Therapy
15. Logical, Reasonable, and Organized Structure
Easier navigation leads to a better experience, which in turn results in higher sales. Through organizing your store's categories, options, and displays, your customers can easily locate what they're looking for. Aside from integrating a search bar for customers, it is recommended to also include various filters to further refine the options available.
A good example is how Nutriseed, a health products store, greatly categorized product viewing for their customers by detailed categories and filters.

Image source: Nutriseed
16. Implement a reasonable Return/Refund/Exchange Policy
Sometimes, product images and videos are so good that they exceed the actual quality of products – giving off the wrong impression about the quality or characteristics of what it actually is. A lot of customers are aware of this and actually check on return, refund, and exchange policies before placing an order. 
A good policy addresses the fear and objection of customers, so if they can easily identify which part of your policy can answer their concern, then they will easily place an order without further hesitation or restrictions. It's also important to place your policies on your product page to enhance customers' experiences.
HIUT Denim Co, a clothing company, specifically states in their product pages that "you can exchange or return your jeans up to 90 days after purchase".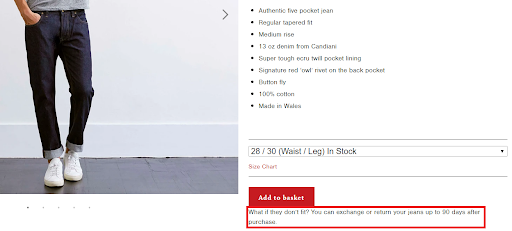 Image source: HIUT Denim Co
17. Integrate "Notify Me" Feature 
Stock-outs can easily turn a customer down, especially if they've been eyeing an offer and turn out to be unavailable. As a store owner, your unavailable item shouldn't mean a lost customer. Give them hope simply by informing them that we can remind them once it's available – just ask for their contact information and continue keeping the relationship with them going by regular updates or even other similar options. Out-of-stock items don't mean you have to lose the customer. 
OpenCart shares a feature similar to the said integration – which asks for their name, email, and submits these to ensure that they can get updates.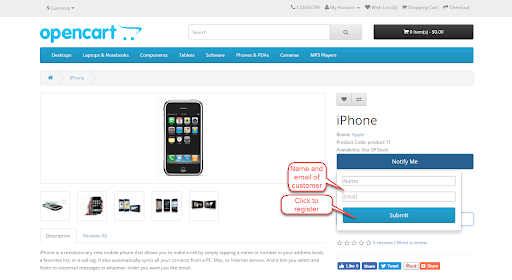 Image source: OpenCart
BONUS Tip: Ensure full attribution of the store sales
It's easy to promote your products and website across a variety of channels such as Instagram, TikTok, Facebook, Pinterest, Google Ads, and so on… but often hard to understand where the actual sales are coming from. To do that, you'd need to install conversion pixels and analytics on your Shopify store. Sometimes it's easier said than done. To make this as painless as possible, here's a 5-minute guide that walks you through how you can make sure all your conversations are tracked with the Google Tag Manager app for Shopify.
—
Remember that even if you have implemented any of these strategies, it's still best to know your audience first, get to know their pain points, and ensure that what you can offer them addresses their objections. 
If your strategies are implemented but you don't know what your audience wants, no matter how much investment you make, no sustainable conversions will be reached.
Above all, what matters most is how your customers are able to find the best experience from your store – without any objections or hesitations.
—
Enjoyed the read? Share this guide with your network!