The marketing industry has been highly dependent on Google Analytics for website and marketing performance for almost two (2) decades. To continue coping with updates, particularly with user privacy and multiplatform journeys, Universal Analytics (UA) will be going away, in favor of Google Analytics 4 (GA 4).
On 1st July 2023, UA will stop processing data. Previously processed data in UA will be accessible for at least six (6) months; possibly even years. In comparison to GA 2 or what was previously known as Classic Analytics, it ended in 2012 but a number of websites still use it to track their metrics and generate data for their reports. Afterwhich, new data from GA 4 will come. 
What are the changes? 
GA 4 does not require cookies – at all. It measures data and insights by utilizing an event-based data model, while UA is session-based, based on the claim that page views are not the most important metric to be considered. User Properties will now be more applicable, as the session scope will be removed. UA also bases its data on web traffic, and GA 4 supports businesses through websites and applications, which means that streaming data into one (1) property will be more convenient. In terms of data tracking, interactions can now be tracked automatically, which means that conversions can easily be monitored based on different marketing initiatives, along with the availability of additional tools and reports for analysis (which was initially only for GA 360). However, data will expire after fourteen (14) months if configured manually; wherein data streamed from UA does not expire. IP addresses will not be further maintained, including views – in short, privacy laws can now easily be complied with by different brands, companies, and pages. Overall reporting capabilities is something that is yet to be developed for GA 4 currently; but with the availability of BigQuery integration, even for free accounts, will be beneficial.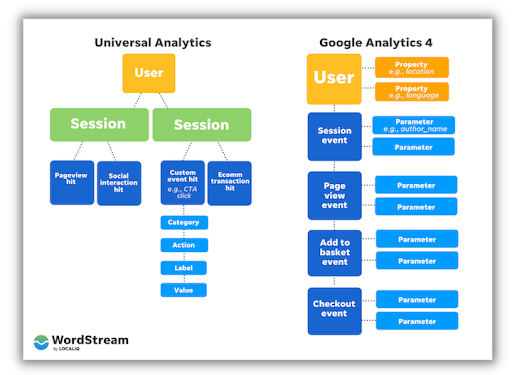 Figure 1 – Comparison between UA and GA 4 by LOCALiq
Some issues shared by marketers, including consultant Joe Youngblood is that prior GA data won't be accessible at all – which he argues to be unacceptable as no historical data can be viewed. Jono Alderson also mentioned that GA 4 is not yet ready to be launched, and that analytics professionals will have a hard time understanding what he referred to as a "half-finished" product. What's highly important is that users, marketers, and business owners must be ready and should already start drifting away from UA, and transitioning into GA 4. You can also read about Google's comparison between the data models here.
Just make sure to check which Google Analytics you are using, and if you are currently or will soon be impacted by this implementation. 
Where do I start? 
With GA 4's availability for more than a year, it's best to configure it now to ensure that metrics tracked will start recording, and historical data will be then available. Marketers can already start migrating their data and properties as GA 4 is taking over in less than fifteen (15) months. Familiarity and comfortability with this interface will allow better analysis of data and improvements for brands, companies, and businesses.
As observed, properties will be under GA 4, and it's set that way as a default. Eventually, GA 4 will be the main analytics platform for all users. Both GA 4 and UA can be utilized for your website, but do consider installing Google Tag Manager and adding GA  to ensure that the data can easily be tracked. 
If you're ready to make the transition, make sure to switch to GA 4 as soon as possible. Not sure how? Check out Google's Setup Assistant. By using this, your UA property will not be affected.. You will also be prompted with the option of either connecting to an existing property or creating a new one and a popup of what will be done will appear on your screen.
Once you have done so, your Analytics data will be available from your Google Ads account; and if your conversion tracking has been set up, you have the option to import Analytics into Google Ads or remove them instead. As mentioned earlier, you will also be able to still export your previous data from UA; through individual reports, Google Analytics reporting API, or by using BigQuery. A quick tip to consider is to make sure you have already defined your internal traffic, adjusted your data retention to fourteen (14) months, and configure cross-domain tracking. 
Check out Google's tutorial on making the switch to GA 4.
Once you have the GA4 account, it's easy to make sure all your sales attribution on your Shopify store is correctly tracked in the analytics. Consider Google Tag Manager app for Shopify to add your GA4 account to your Shopify store.